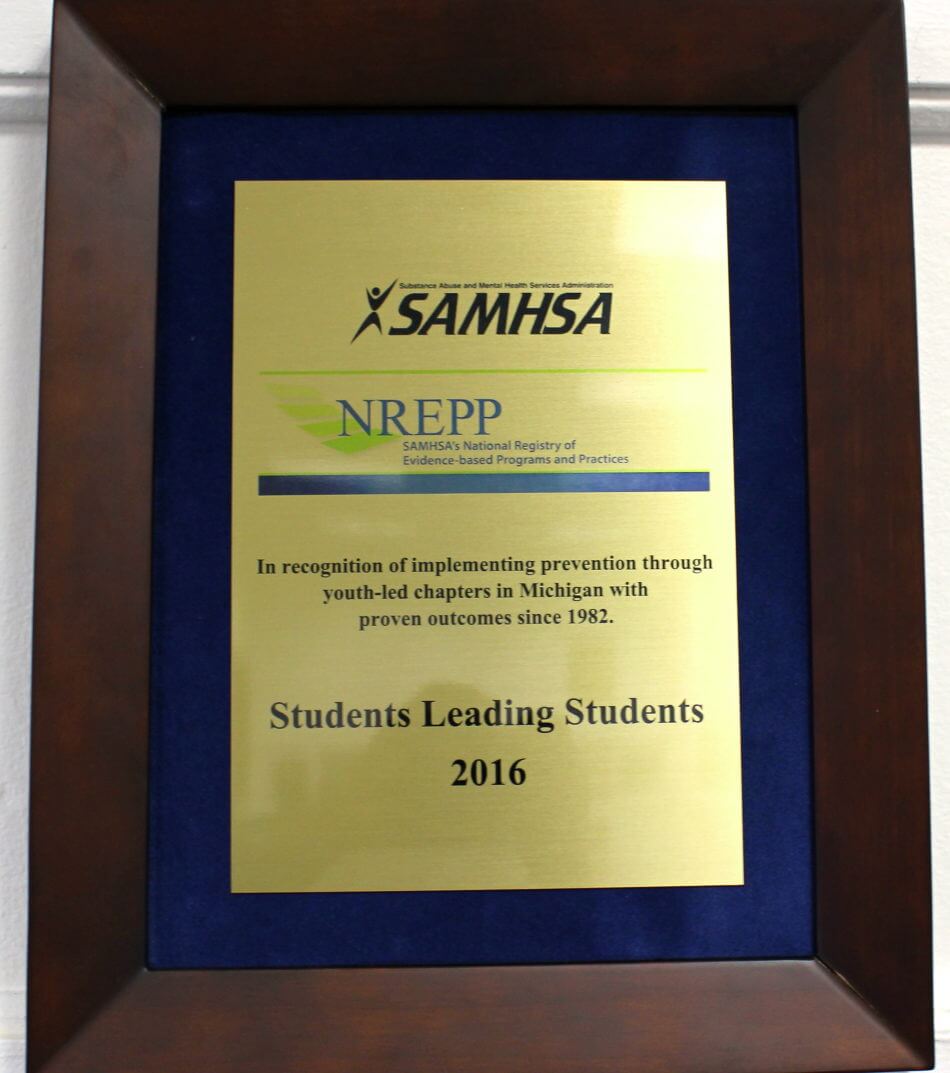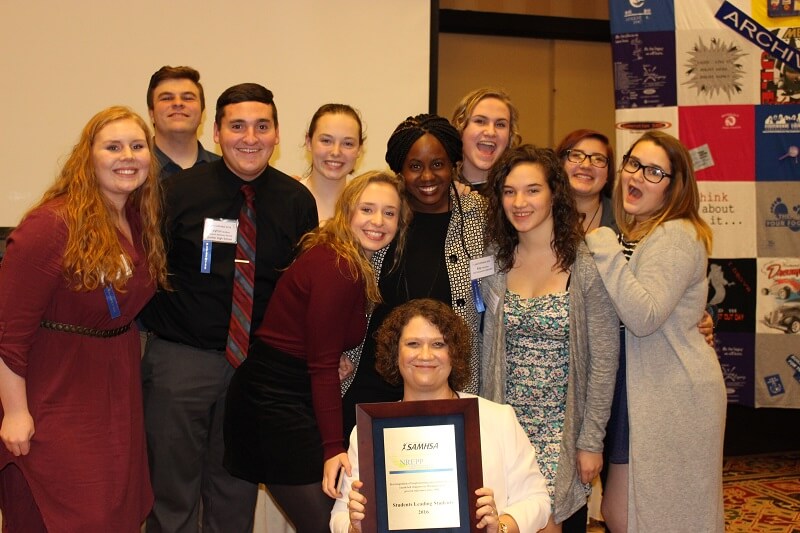 …read more
Students Leading Students is listed on SAMHSA's National Registry of Evidence-based Programs and Practices, for implementing prevention through youth-led chapters in Michigan with proven outcomes since 1982.
Click here to access the page
1. 2016 SAMHSA's National Registry of Evidence-based Programs and Practices.
2. 2014 National Exemplary Award for Innovative Substance Abuse Prevention Programs, Practices, and Policies by NASADAD (National Association of State Alcohol and Drug Abuse Directors) and SAMHSA.
3. SAMHSA Building Evaluation Capacity for Evidence-Based Interventions Award 2012-2014.
4. SAMHSA Service to Science Award 2011-2012 from federal Substance Abuse and Mental Health Services Administration (SAMHSA) for "responsiveness to local needs, innovative approach, incorporation of practical experience, commitment to evaluation, and delivering effective youth programs." SLS was nominated by the MI Bureau of Substance Abuse/Department of Community Health and Oakland County Office of Substance Abuse.
5. Governor's Traffic Safety Award for Long Term Achievement – 2012 presented by Michigan Office of Highway Safety Planning (OHSP). SLS was nominated by Dickinson Wright Law Firm, Detroit office
6. SLS App and QR Code developed by Talayah Thornton, SLS Student Advisory Board, launched 2013.
7. Six Chapter Support Seminars annually developed by SAB 2012-2015 with 1.5 G Flash Drive of SLS material .
8. SLS 2005 Evaluation by HIGH/SCOPE Educational Research Foundation reported SLS was "off the charts"- the best youth program in Michigan – out of 90 youth programs evaluated. Score 4.15 out of 5.
9. Collaborated with five Michigan SLS high school chapters that hosted one-day state conferences: "25th SLS Anniversary" Miles Across Michigan…" Project with student speeches, national speakers, workshops, community service, memorial, networking & dance. SLS Chapter hosts: Bentley, Cousino, Houghton Lake, Newaygo, and Vandercook Lake undertook one year of planning, training and preparation for each event.
10. Collaborated with national youth development and teen safety organizations: High/Scope Educational Research Foundation; H/S Institute for Ideas; National Safety Council; National Student Safety Program; Native Indian Tribal Youth; National Organization of Black Educators; National Teen Collaborative Conference.
11. Engaged and trained 200 adult alumni volunteers that assist SLS with training, events, social media and web site management, consulting, and wherever their professional expertise will strengthen SLS.
12. Hosted four days International Teen Collaborative Conference in 2001 in Detroit for 360 students from 16 states. Focus was teen driving safety and peer leadership. SLS Partners: National Student Safety Program, Native Indian Tribal Youth, Arab-American Chaldean Council.
13. Planned four "Youth Leading Change" one-day events for middle and high school students, facilitated by high school students; including skill building activities, workshops, keynotes, health challenges, and fun.
14. Thirty-two years coordinating Michigan high school and middle school-based student-led chapters that focus on driving safety, leadership skills, respect for self and others, community service, peer education and healthy living.
15. SLS Model Program (since 2009) accepts 4-5 chapters annually to receive on-site trainings, advisor & project grants, and HIGH/SCOPE Youth Program Quality Assessment. Follow-up YPQA in subsequent years by SLS.
16. Twenty-nine high school three day State Conferences planned and delivered by teams of 5-22 high school students on the national award winning SLS State Student Advisory Board.
17. Awarded Citizens Insurance Grants to SLS chapters to support youth-led projects, since 1986.
18. State conferences for middle school STAND chapters; speeches, workshops, service and networking facilitated by SLS high school peer leaders.
19. Annually trained 500 high school students that teach 22,000 elementary students. (25-100 chapters with ten member peer educator teams) Curriculum lessons focus on refusal skills, leadership training, drug education, driving safety programs, and positive peer influence.
20. Developed trainings, curricula, handbooks, and videos for advisors of school-based youth-led groups.