Student Leadership Services
SLS was founded in Michigan in 1982. SLS supports students and schools. SLS trains students in school-based health initiatives.
SLS recognizes the harmful effects of alcohol and other drugs by underage students.
SLS believes that students have a voice and make a difference.
---
MISSION STATEMENT
Student Leadership Services is a non-profit dedicated to ensuring our youth remain safe, healthy, and alcohol and drug free. SLS accomplishes this through innovative and evidence-based prevention programs within student-led, adult-supported chapters.
OUR VISION
Every student can be a positive leader in changing thoughts and challenging behaviors. The long range goal of SLS is to develop student-led SLS Chapters to scale in all Michigan high schools.
SLS PURSUES EXCELLENCE
2016 SAMHSA's National Registry of Evidence-based Programs and Practices (NREPP)
2014 NASADAD National Exemplary Award for Innovative Substance Abuse Prevention Programs, Practices, and Policies.
Research supported by SAMHSA's Service to Science and Enhancement Awards were key factors in SLS national recognition.
CORE VALUES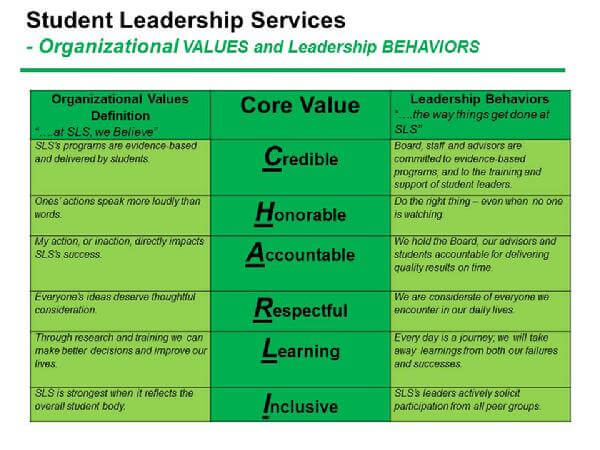 You might also like
Results
Student Leadership Services
1150 Scott Lake Rd
Waterford, MI 48328
248-706-0757
Fax: 248-706-0750
Get Connected!